Description
This application helps with a lot of tasks to save you time before grading.
A lot more tasks will be added in future versions.
Convert SDR to HDR

"On the fly"

without any Color Grading Software
High Quality HEVC PQ HDR Master Output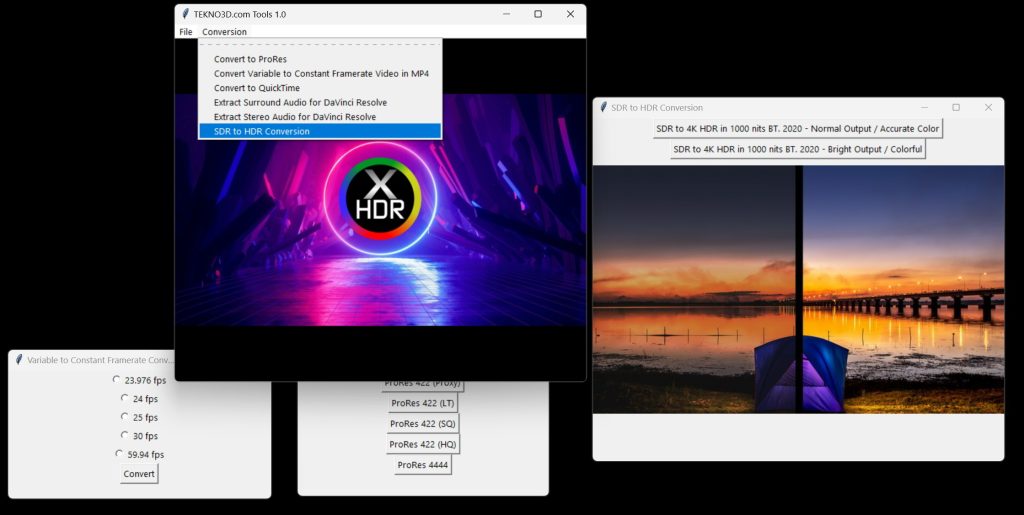 You are able to:
Convert SDR video (YouTube, MKV, MP4, AVI, etc) to a High Quality HEVC 10-bits PQ HDR10 1000 nits in BT. 2020 Wide Color Gamut "On the Fly".
Convert a video (MKV, MP4, AVI) to MOV QuickTime, ready for DaVinci Resolve. This is not a re-compressed video; it will copy video and make it MOV.
Convert the VFR (Variable Frame Rate) converted video file into a constant framerate to avoid issues when grading and exporting your video.
Conversion to ProRes (All Formats)
Extract Surround audio and convert it to LPCM Wave format.
Extract Stereo audio and convert it to LPCM Wave format.
Future versions will add the option to:
Convert SDR to HDR in many more formats, such as Dolby Vision or HDR10+, Convert HDR into SDR, edit HDR10 metadata, HEVC/x265 conversion with high quality presets, convert to MP4 and more.
Subscription Based Product
The product uses a Subscription License System.
At launch, we are going to provide only two subscriptions.
Purchase Options:
1 Week $39.99
1 Month $69.99
*Product License is only for one computer activation.
Please contact us if you have any more inquiries about how the Conversion tool subscription works.
To purchase any of the available subscriptions, please use the contact form.
With the purchase you get:
Free application updates, as long as you have an active License.
24/7 support and invite to our Colorists SLACK Chat Community.
1 month of VIP access to our Internal Colorists Community
Requirements:
Windows
NVIDIA GTX/RTX GPU (For the SDR to HDR Conversion) – GTX 1060 and up is Recommended.
NVIDIA RTX 2xxx GPU needed for Super-Resolution and Real-Time noise/artifact reduction options to work.