Description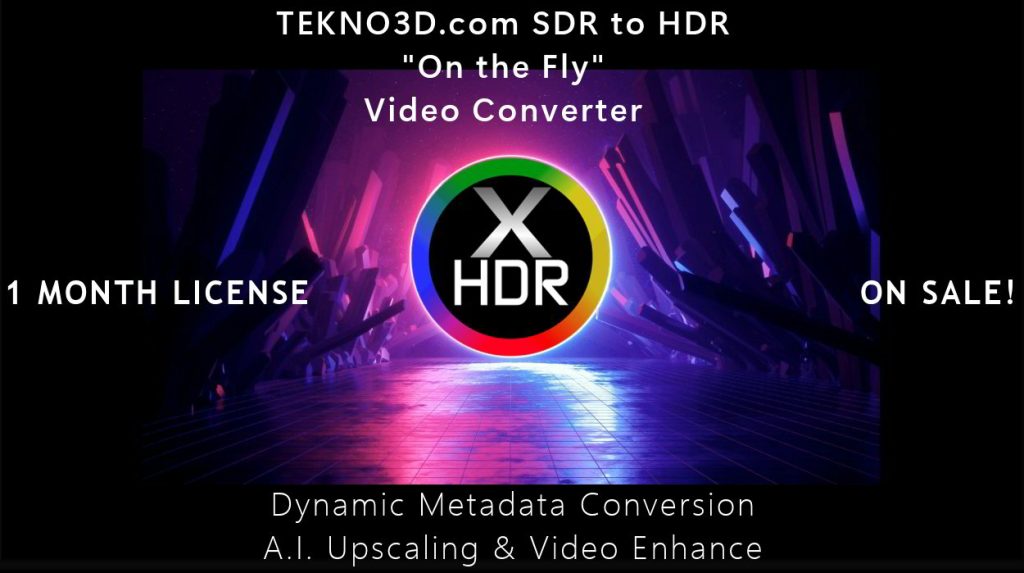 One Month Subscription License for the TEKNO3D SDR to HDR Video Converter
Current Version: 1.1.0 Rev2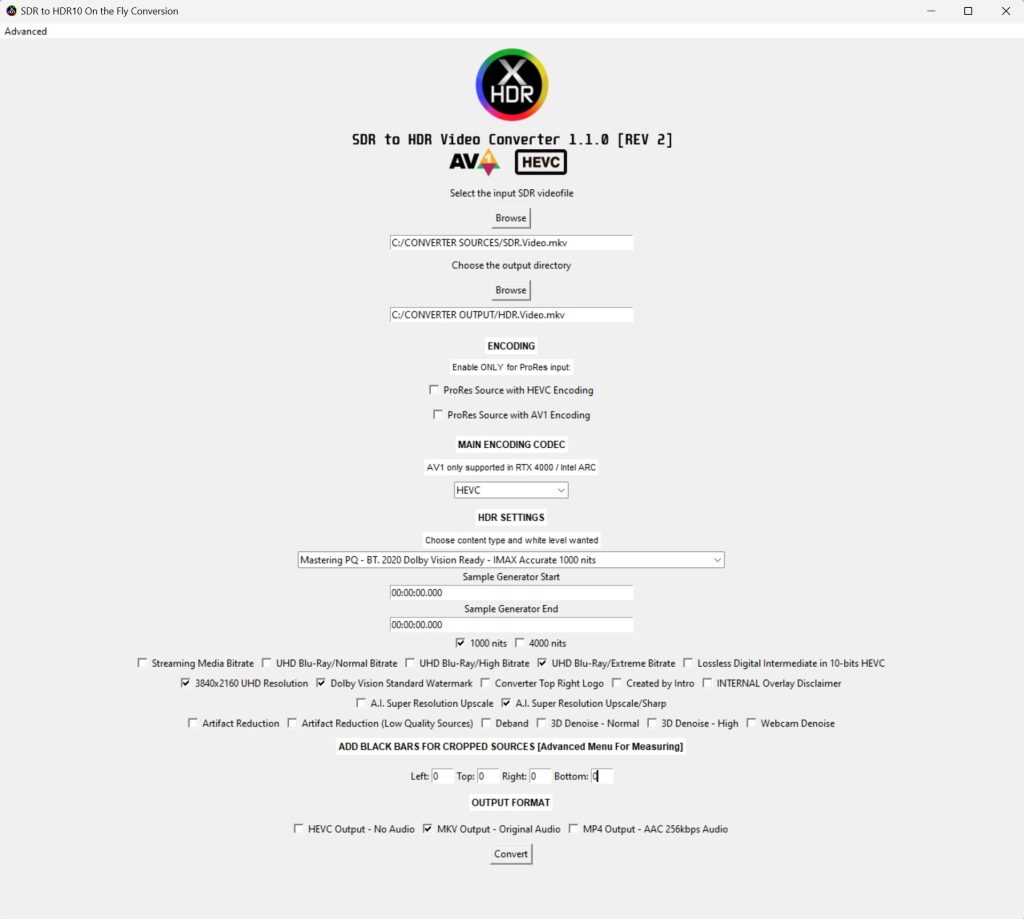 Main Features:
Input any SDR video source file ProRes, YouTube, MKV, MP4, AVI, etc.
Convert using different HDR output modes (Studio Quality Tonemapping)
Mastering PQ BT. 2020 Wide Color Gamut HDR Modes (Ready for Dolby Vision)
IMAX, Modern CGI and Natural HDR Modes with different white levels
GPU or CPU Encoding
HEVC or AV1 Encoding
ProRes Encoding
Encode Dolby Vision HDR with RPU using GPU
Convert Dolby Vision XML to RPU
Inject Dolby Vision RPU to any HDR Video File
Dolby Vision L5 Active Area automatic measurement
Media Player for HDR10 and Dolby Vision
Passthrough your HDR10 or HDR Digital Intermediate for GPU Encoding
Sample Generator (You can encode just a part of the input source video)
Add Black Bars with automatic measurement
A.I. Super Resolution Modes
A.I. Denoising
1000 and 4000 nits
No need for Digital Intermediate
UHD Blu-Ray Bitrate Profiles
Lossless HDR10 output option
Streaming and UHD Blu-Ray bitrate modes
Logo Watermarks
Dolby Vision Suite (Input your created HDR10 file and convert it to Dolby Vision Profile 8 in one single step, fully automated)
HDR10+ Profile B with JSON Injection to any HDR video file (Same process, fully automated)
Export in HEVC, MKV with original audio track/s or MP4 with Dolby Digital Plus.
Some content created with the TEKNO3D SDR to HDR Video Converter
Subscription Based Product
The product uses a Subscription License System.
At launch, we are going to provide only two subscriptions.
Purchase Options (Personal License, for Commercial license use the contact form)
*Product License is only for one computer activation.
Please contact us if you have any more inquiries about how the Conversion tool subscription works.
For purchase inquiries, please use the contact form.
With the purchase you get:
With the 1-Year License: Access to both our private colorists communities with VIP tier/full unrestricted access.
Free application updates, as long as you have an active License.
24/7 support and invite to our Colorists SLACK Chat Community.
Uploader Tier for our Internal Colorists Community (Both Platforms)
Coming in next updates:
Film Grain
Extract Surround audio and convert it to LPCM Wave format.
Extract Stereo audio and convert it to LPCM Wave format.
Requirements:
Windows 10/11 x64
NVIDIA GTX/RTX GPU (For the SDR to HDR Conversion) – GTX 1060 and up is Recommended.
NVIDIA RTX 2xxx GPU needed for Super-Resolution and Real-Time noise/artifact reduction options to work.
NVIDIA RTX 4000 or Intel ARC GPU is required for AV1 Encoding.
For CPU encoding 8+ Cores is recommended.